Commemorating the Centenary of the Armistice: children pay tribute to the fallen from World War 1
Children at Fressingfield Primary School have been learning about the First World War this term to coincide with the centenary of the signing of the armistice at 11am on the 11th November 1918. This culminated on 8th November in their participation in the 'Remembering War, Praying for Peace' commemoration, a Suffolk-wide event, organised by the Royal British Legion to remember all the servicemen killed during the war and buried in Suffolk churchyards.
There are three soldiers buried at St Peter and St Paul's Church – Pte Herbert Vincent, Pte James Rumsby and Deckhand John White. The children learnt about each of them and laid poppy wreathes at their graves. Three children – Jacob, Sam and Jessica – also read about how members of their own families had been affected by the war, following research conducted as part of their homework. Jessica explained that her great, great uncle Charles Mayhew died of TB contracted whilst serving on the Western Front as a driver for the Royal Artillery.
As part of the service, every child in Key Stage 2 laid a hand-sewn felt heart on the altar of the church, similar to those sewn by injured servicemen to send to their loved-ones at home. For this project – called 100 Hearts for 100 Years – the children were supported by Mrs Lindsey and other members of the Fressingfield Craft Club, who also created hearts of their own and which now decorate the pulpit in a beautiful tribute to those who sacrificed their lives.
At school, the children have been learning about the First World War throughout the term. They wrote newspaper reports about the murder of Archduke Franz Ferdinand, the event which catapulted Europe into war, and are now writing diary entries about life in the trenches. They were also visited by Mr B Stephenson who kindly brought in his collection of WW1 memorabilia, including a machine gun.
The children also retold the story of 'The Great War' by creating a quilt in the style of Harriet Powers, a African-American artist who was born a slave in the 19th Century and who used her quilts to tell Bible Stories and stories of slavery. This project, which was linked to Black History Month, has created a powerful and moving tribute to the fallen and is on display in the school atrium.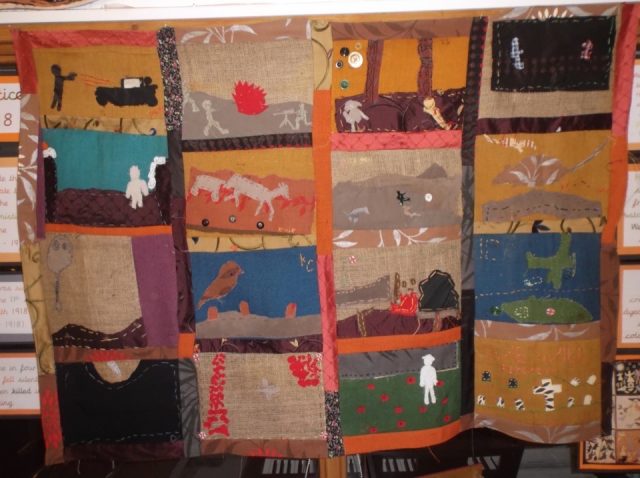 It has been an honour to participate in the village's commemoration events this term; the children have found the topic interesting and inspiring and have been deeply moved by the sacrifice made by people in this village to safeguard their futures.