Yangtze Class Thu 26th March
Day 4
Hello all, and I hope you are all keeping busy and positive. Thank you for the photos of all the things you are up to. Here is E making some delicious flapjacks.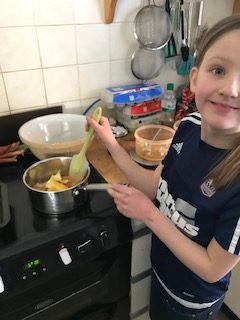 George has written a song as his entry to the Handwashing Challenge. What we need now is some film of all of you singing it as you wash your hands. Send them to me by email, and we'll post them too!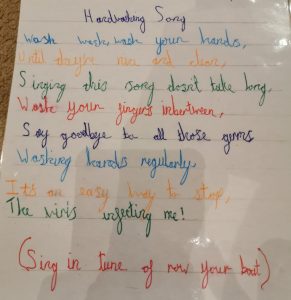 And Zara has been teaching herself how to draw animals – I'm sure you'll agree they're pretty cute!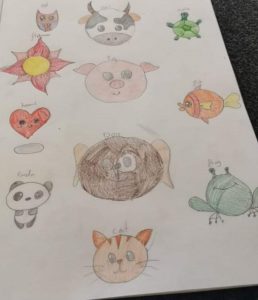 Thank you too if you have messaged me in any other way – it is nice to hear who is involved and keeping busy.
GUIDED READING
For your guided reading today, I would like you to read your own book and copy down any examples you find of simile, metaphor or personification. You will be working on this later for your Great Storm writing.
Simile: these compare things to something else using 'like' or 'as ….. as.'
The night was like a dark blanket covering the sky.
Metaphor: these link images by saying one thing is another thing.
The night is a dark blanket covering the sky.
Personification: this technique creates images by giving objects human characteristics
Fear knocked on the door.
The waves greedily bit chunks off the cliff and swallowed whole buildings.
THE GREAT STORM OF DUNWICH 1286
I hope you enjoyed researching your characters and thinking about who your character would be for the Great Storm recount.
Today, I would like you to gather descriptive words and phrases that you can use in your recount. I would like you to use 'imagery,' which means using simile, metaphor and personification to create a descriptive image of the storm in your reader's mind.
Work your way through this powerpoint, gathering your imagery and writing your descriptive phrases and sentences in your books.
Handy hint: always try to expand on what you have written. For example, don't be satisfied with writing, "The sea was a cat." Instead, write "The sea was a hissing, wild cat with claws that snatched at the people huddled on the shore."
AUDIBLE
Have you heard that Audible is free for children for as long as schools remain closed! This is a great resource: it has hundreds of books to listen to.
YEAR 6 HOODIES
Finally. Each year, children in Yangtze Class raise money to buy all the children in Year 6 a leaver's hoodie. Normally we do the Grow a Pound challenge and sell things in school, but that won't be possible this year. If you have any ideas for ways in which we could raise the money needed, please email them back to me and we will see how we can go about doing it. Ideas so far include a sponsored reading challenge, or a sponsored exercise challenge, but I'm sure you'll have some creative ideas too.
TERRIBLE JOKE OF THE DAY.
Why couldn't the pony sing a lullaby?
She was a little hoarse.