Day 8
Hello. The sun is still shining, and it's no longer trying to snow!
Hope you all managed to have a look at the literacy powerpoint, and write some good descriptive sentences. Well done to J, who has written some great ones!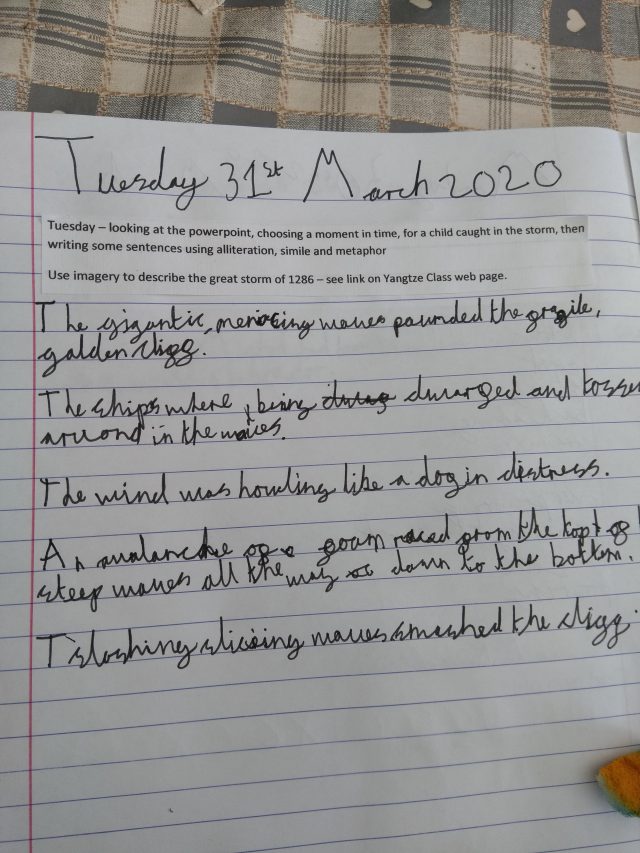 Wednesday is hot seating! Here is a link to show what this is, if people aren't sure. You will need a partner first, then need to work out who will go in the hot seat! Remember to decide your character, then write some open-ended questions first. If you can, make some notes after, to remember what the character said. All this will help you bring your character to life for when you write your recount later this week.
Hot seating:
If you're on the co-ordinates part of your learning pack (Year 4s), well done! A sharp pencil and ruler will really help here, if you have one. And a big well done to A, who has done some great fractions maths!
If you are being super speedy and fancy a maths challenge, here's an extra one attached, about a doughnut!
If you're sticking to your class timetable, and fancy some music and PE in the afternoon, here are a few ideas below.
Virtual piano: https://www.onlinepianist.com/virtual-piano
Activities:
Copy Me game, using just the notes G, A and B to the right of middle C. Play four notes to start; can you partner have a go? Then play five notes, then six … Each time, see if your partner can play back the tune.Compose a tune using a pentatonic scale (that would be C, D, E, G and A in the middle for C major). So, using just these 5 notes, compose a tune, which reflects your mood today. Would it be playful and jumpy, slow and melancholy or confident and marching? Can you record it, so you or a partner can play it back? If you can use musical notation (go on, have a go), then write your music out using musical notation, OR write out the notes in capitals. Put a line — after the longer notes (minims) and a little line to link 2 fast notes (quavers).
For PE (if you still need more after Joe Wicks!), how about making up your own set of exercises, trialling them out yourself, then seeing if someone else can do your routine with you? You could always do this outside, if you fancy? Add in some of your favourite music, and how about making a short video to show us all?'