DAY 9
Hello everybody,
I hope none of you were fooled by my April Fools yesterday. If you were, I hope you enjoyed eating all that spinach!
We're back to normal today, and it is the last day before the holiday!
Thank you for all of your stories. I really enjoyed reading them. You obviously put a lot of thought and effort into them and they were fantastic. If you haven't yet sent me yours, please send it to me today so that I can mark it. Thank you.
MATHS – RATIOS DAY 4
Today you will be trying to solve problems involving ratios. I have prepared a sheet to explain how to 'scale-up' a ratio which I would like you to read through first. Then choose one of the challenge sheets to work through. If you are keen to impress your family and me, there are some bonus challenges too!
Ratio Challenge Sheets Day 4 2 April 2020
Maths Ratio Day 4 2 April 2020
LITERACY
After all your hard-work writing, today is a day for responding to your feedback, then looking through your home-school booklet and finding a SPAG task to do. I'm not sure where you are up to with these, but the answers (when you have finished!) are in the back.
SCIENCE
And finally, let's finish with some fun science.
Earlier in the term we found out that the size of a shadow decreases the further it is away from a light source. We also found out that the shape of a shadow is the same shape as the object that casts the shadow. For your science, watch this video. https://www.bbc.co.uk/bitesize/clips/z87jmp3 about shadow puppet theatres and have a go at making your own. All you need is a torch, a white sheet, a dark room, your hands and an audience. But if you want to be really ambitious, use card to make your own shadow puppet and use it to tell a story of your own.
EASTER HOODIES SPONSORED JOE WICKS EXERCISE FUNDRAISER ALERT!
In order to raise the money to buy each of the Year 6s a leaver's hoodie, we are launching a sponsored exercise-a-thon to run over the Easter Holidays. We would like you to ask your friends and family to sponsor you to participate in the Joe Wicks PE lessons over the Easter holidays. FOFSA have agreed to match whatever we raise to cover any shortfall, so if we all raise a little, we should be able to order our hoodies after the Easter holidays. I have attached a letter to explain more. Good luck!
UPDATES FROM THE HOME FRONT
Today seems to have been a baking day.
Here is Z busy in the kitchen (which is a great place to practise your ratios btw).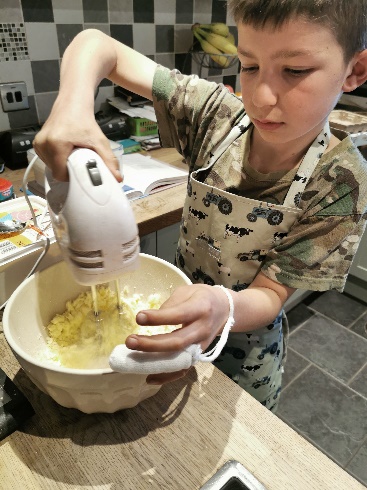 S. was busy baking too – a sponge cake, I think.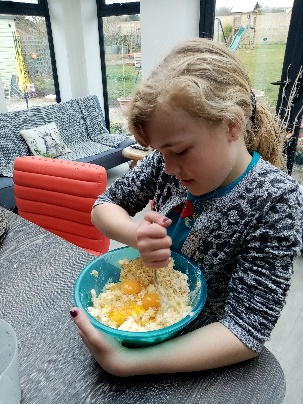 L. has been experimenting with raw eggs and vinegar: she soaked an egg in a bowl of vinegar for 24 hours – look at the results!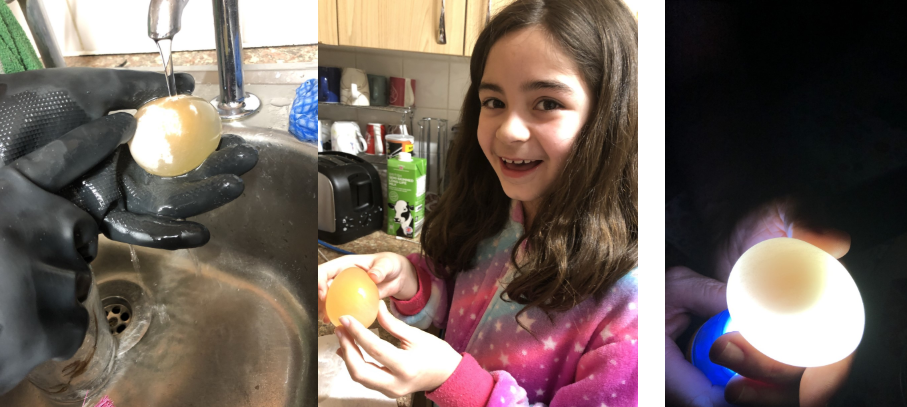 And Matilda has been exploring what Personal Protective Clothing (PPE) NHS workers need to wear to keep themselves safe from the virus.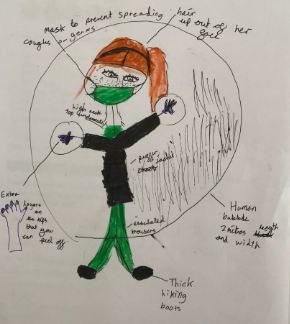 AND LASTLY, TODAY'S EGGS-ELLENT EASTER JOKES HAVE BEEN SUPPLIED BY KEITH!
Why didn't the bunny hop?
No bunny knows.
What does the Easter Bunny say when it burps?
"Eggs-cuse me!"
Why did the Easter Bunny join the gym?
To get lots of Eggs-ercise.