Yangtze Class
Welcome to the Yangtze-Class-At-Home Hub!
Here you will find all the things you need to keep learning at home during this difficult time. Log on each day to see the latest suggestions, to find links to great things you can do online, to see photos of your friends at work at home and examples of the work they are doing.
If you have anything you would like to contribute – super work, photos, great links to online activities, even a joke-of-the-day, then email me and I will add it to the next post.
Stay safe, stay busy and keep smiling!
Mr L
School Closure Letter For Children March 2020
School Closure Timetable Letter March 2020
---
Watch the video of Jonah and the Whale,
then have a think about God's behaviour, and also Jonah's.
Why did God punish Jonah?
How did Jonah feel at the end of this story?
If you were Jonah, what would you have done?
NEWS FROM THE HOME FRONT
I think a great many of you would have been extremely hungry if you had to make paper bags for a living. I'm sure it gets faster given practice, but it's still a fiendishly difficult way to make a living. I was impressed by the children's answers to the final question in class: How did it make you feel to play this game? They talked about the stress of trying to work quickly, the minimum reward for efforts, how unfair it all seemed, and how lucky they felt not to have to earn their living in this way.
I was very impressed with Eva's thoughtful, detailed balanced argument that came in last weekend, so I am posting it on the website for you to see. It's a wonderful piece of writing. Well done Eva.
TASKS FOR THE WEEK
LITERACY
There is a choice of activity for this week's literacy. You can either choose to follow the Oak National Academy plans – I have recommended a unit for both Year 5 and Year 6 in the weekly overview, or you can work through your purple workbooks. I will leave it to your parents to decide what a reasonable amount of work is in these.
MATHS
This week I have planned work using the workbooks. These are different for Year 5 and Year 6, so read the overview for your year before you start. The overview also includes links to videos that can help you. I have also included an extension task for each day if you are either keen, in need of a greater challenge, or both. Friday's maths is to solve the mystery of the Festival Camping Chaos.
SCIENCE
This week you will be investigating friction using a bicycle (or scooter or tricycle) wheel. Please be careful not to hurt your fingers. Your task is to find the best material to make a new set of brakes.
ICT – ANIMATION
Over the next two weeks, I would like you to work on your animations using your storyboard to guide you. I hope you have come up with a short story that can be retold using the character you invented a couple of weeks ago. The finished animations should be about a minute long, if you can manage it.
HISTORY
There's an iron age mystery to solve this week. When archaeologists dug up the hillfort at Maiden Hill in Dorset, they discovered 52 bodies. Your task is to use the evidence to establish what happened to them. I would like a written crime report to be sent to me that describes what the evidence proves.
D&T
This week you will be planning your final loaf. Use the ideas you have researched over the previous few weeks to design a bread for a special occasion. Draw it, label it, write the recipe and gather the resources. Next week will be the Great Fressingfield Bake Off, so you need to be prepared!
FRENCH
En francais, you have two short reading comprehensions to complete, focusing on hobbies.
AND LASTLY,
What do you call a fish without eyes?
A fsh.
Why did the scarecrow win an award?
Because he was outstanding in his field.
Two muffins are baking in an oven. One muffin turns to the other and says, "Phew, is it me or is it getting hot in here?"
The other muffin says, "Aaaaaaghhhh! A talking muffin!"
What did the policeman say to his bellybutton?
You're under a vest!
This is Eva's fantastic balanced argument that address the issue of whether children should be required to catch up with all the learning lost due to the coronavirus pandemic. She explores the arguments in a balanced, thoughtful and interesting way, elaborating each point and asking questions of her own. Will you agree with her final conclusions? Read to find out.
Could writing a letter really help someone?
How might it make someone feel to receive a letter?
Whom might you write to?
What might you tell them?
Do you have a few spare minutes?
(A text or an email would also be fine, but let us know how you get on).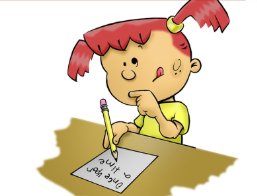 Here is a pair of sunglasses. They are to decorate, cut out and wear. Use them to look back on your year, thinking about everything you have learned. Then take them off, give them quick clean, and use them to look forward into the future. What have you missed this year? What are you looking forward to?

On Friday 3rd July, it's International No Plastics Day. Wow! What might this me for you and your family? Although lots of plastic things are useful, many are not; and many are single-use.Spend a bit of time looking at the poster and web site, and discussing with your family how you might reduce the plastic you use. How might you change things, in a way that you can all manage?
This is a well-known story, often called, 'Joseph and the Amazing Technicolour Dreamcoat'.
Watch the video right through. Whilst you are watching, think whom Joseph helped during his time away from his brothers.
Then think about the end, and think about how Joseph was able to forgive his family. What do you think of that? Would you have done that too? Talk with someone about why this must have been so hard for Joseph. How might Joseph's life change, now he knows his family is alive?