DAY 8
Wednesday 1st April 2020
Hello everybody,
NEW TIMETABLE
We have finally received guidance from the Department for Education today about how home-schooling days should be organised. They recommend all children complete five hour-long sessions per day to include handwriting, spelling, punctuation and grammar, reading comprehension, mental maths, arithmetic, problem solving, creative writing and science. Cookery, physical activity and art and craft projects do not count towards the five-hour total. In addition, the Department of Health recommend all children are given two large bowlfuls of spinach three times a day to improve their immune systems. So, in line with the new guidance, I have made some changes to the timetable and the usual work I set you. Be resilient: don't give up.
9am: Don't log on to Joe Wicks – there's no time for this. Have your first helping of spinach, then it's Guided Reading. You should still have some of the comprehension tasks I set you.
9.30: Maths – Ratios.
Today you will be learning to use the ratio symbol. Look at the Learning objective, work your way through the powerpoint, and – because of the new government guidelines – there should be plenty of time to do the challenges too. If you have run out of time, cancel breaktime and just work through.
Maths Ratio Day 3 1 April 2020
10.30: Break. Perhaps a few more spinach leaves. Please note, breaktime has been shortened to five minutes. Perhaps do one of Mr Taylor's two-minute challenges. Or do two of them.
10.35: Writing
THE GREAT STORM OF DUNWICH 1286
Today's task is to complete your story. In this part of the story, your character will solve the problem you described in the first paragraph (perhaps they will rescue someone, or escape from something), then they will survive the rest of the storm. At the end of the story, they might describe what the town looks like following the storm and their feelings about this – are they in despair, or are they looking forward with grim determination? It often helps to finish a story if there is a link at the end to something that happened earlier in the story – such as in Alwyn's when Father Miles is mentioned again.
When you have finished your stories, please send them to me. You can do this by taking a photo of your work and emailing it to me, or – if you have completed it on a computer – just send me the text. I'm really looking forward to reading them.
12.00: Lunchtime. Make sure the two bowls of spinach you have are BIG bowls, or they won't give your immune system the boost it needs.
1pm: Handwriting. Copy the first chapter of the book you are reading into your purple book in your neatest cursive handwriting. (If you are reading Dork Diaries, Tom Gates, or Diary of a Wimpy Kid, then copy pages 1-50).
2pm: Spelling: Learn the common exception words for Years 5/6 – these can be found online. If you have time left over, translate them into French and learn these words.
3pm: Nearly there. Grammar and Punctuation. Spend the last hour of the day working through the grammar and punctuation tasks set in your home-schooling booklet.
4pm: Now would be a good time to have your last two bowls of spinach.
UPDATES FROM THE HOME FRONT
Thank you once again to everyone who sent me photographs of the things they've been up to at home and examples of the work they've been doing. If you haven't sent me anything yet, I would really like to know how you've been getting on, so please get back to me.
E. has been planting lettuces, tomatoes, spring onion, cucumber, courgette and peas ready for the growing season. Fantastic, but you better sow a few rows of spinach too, E!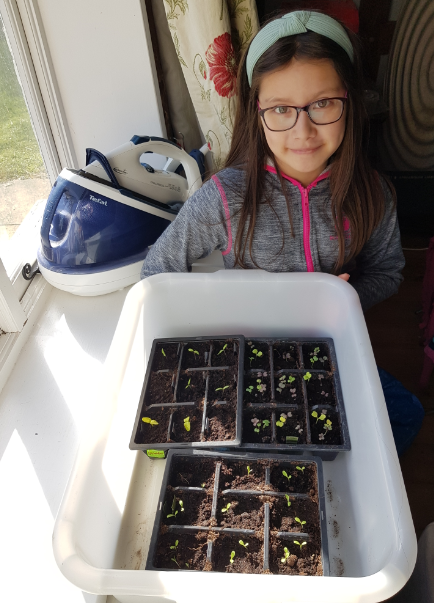 F. used plastic counters to help with the ratios work. This is a really helpful way of making it all make sense. You could use pasta, or coins, or anything else really.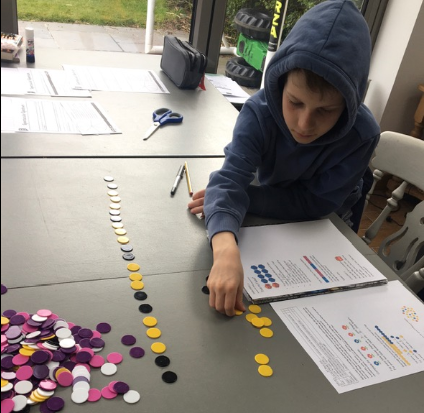 And, I thought you would like to see Percy's handwashing poster: you have to listen to the Hulk!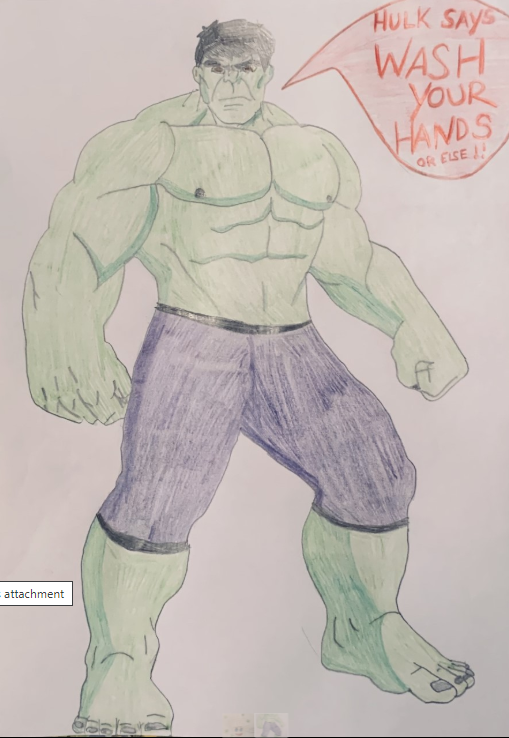 AND LASTLY, TODAY'S TERRIBLE JOKE HAS BEEN SUPPLIED BY FINLEY!
Why did the golfer wear two pairs of trousers?
In case he got a hole in one!
AND LASTLY, LASTLY….
April fools!