HOMESCHOOLING DAYS 28-32
STAR OF THE WEEK
The Yangtze Star of the Week is Monty!
Well done Monty: I have been really impressed with your attitude to learning over the course of the lock-down. You have been independent, self-motivated, hard-working and dedicated. You have produced some wonderful work, kept up the standard we have come to expect from you, and tackled all the tasks with enthusiasm. On top of all that, you have found the time to be outside observing the local wildlife, you have commented on your friends blogs, and – to cap it all – you have won yourself a rocky road cake by winning a design-your-dream-cake competition. Well done Monty!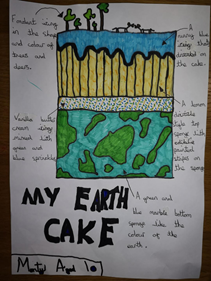 UPDATES FROM THE HOME FRONT
Thank you to all of you who sent me your newspaper reports and persuasive letters: I read a very interesting report about the Coronavirus written by Alwyn, and I was impressed with the persuasive letters written by Finley (who would like to be taken to Miami), Eva (who would like to be taken to see the pandas at Edinburgh Zoo) and Rafe (who would like to be excused from family walks and cycle rides!). I hope your letters convinced your parents, no matter what you were arguing for.
I hope you enjoyed Mr Carr's Science of Sound webinar yesterday – unfortunately I wasn't able to attend as I was teaching at the Haven, but I'm sure it would have been excellent.
Thank you to all of you who promised money for the Year 6 Hoodies. I'm hoping we will be able to order these this week – I will be in touch.
S. had a really enjoyable craft day by the looks of things – here she is doing some decoupage.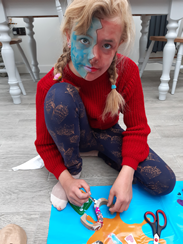 And Finley's moon phases diagram is really clearly drawn and explained. Well done.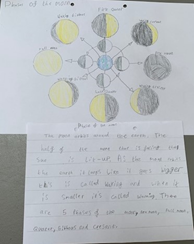 THE OAK NATIONAL ACADEMY – LITERACY
This week's lessons are focused on instructions (Year 6) and diaries (Year 5). Please do send me examples of your finished pieces so that I can see how you have got on. Remember to let me know if you don't want me to post them on the website.
MATHS
This week you will be learning about averages. There are three different ways to find the average and the week's lessons will take you through each of them. You will be conducting many of your own investigations and finding the average of your results. If you take photos of your work, please send them to me so that we can share them with others in the class. One of the investigations we carried out to find the mean average on Friday at the Haven was to test the flights of paper planes. It was great fun, so feel free to do the same.
SCIENCE
This week, the big question is: What is the sun? I would like you to investigate the object at the heart of our solar system and then find out more about similar bodies in the galaxy and beyond. Draw your own star chart and go star-gazing – which constellations can you identify? Remember to keep working on your moon diaries too – these will be great if you can keep them going for a full month.
PURPLE MASH – ICT
I am really pleased with the Blogs you created on Purple Mash – there are all sorts of things to read about, including facts about sloths, Harry Potter, blackbird updates, and much more. If you haven't yet had a look, then log on, browse your friends' and create one of your own. This week, I would like you to add links to other websites (sites that say something about you and your interests (eg: https://www.arsenal.com/ would be a great site to link to)). You can also try adding photos you've copied from the internet, and even some videos.
HISTORY
The big question we have been trying to answer last week and this week is: What was new about the New Stone Age? This week, I would like you to work on your leaflet that will answer this question and tell us about the Neolithic site Skara Brae. Please send me your finished examples.
ART
If you haven't already done so, please send me a photo of your final pieces from last week. This week you will be making beads to create your own stone-age necklace.
FRENCH
In French, your task is to ask for and give directions in French. There are a few videos to watch to help you learn how to say, 'go straight on', 'turn left,' 'turn right' and other phrases. Use the map to give instructions to another family member. Bonne chance!
WEEKLY UPDATES
Please remember to send me a weekly email so that I know how you are getting on.
AND LASTLY,
Knock, knock.
Who's there?
Interrupting Cow.
Interrupting Cow, wh
Moo!