HOMESCHOOLING DAYS 68-70
FIRSTLY – THANK YOU HOME-TEACHERS
Well done mums, dads and carers for your fantastic efforts during the 70 school days of lockdown. You have done a wonderful job in very difficult circumstances. I have really enjoyed following you and your children's progress over the last few months and receiving your children's work. The range of fun activities you have shared and your support, dedication, determination and inventiveness has been inspiring and a pleasure to follow. Your children have continued to make progress despite not being in school and seem to have enjoyed themselves too. Well done, and thank you for doing my job for me!
STAR OF THE WEEK
The Star of the Week is Alwyn – once again. You have worked really hard throughout the lock-down, and kept up the effort right to the end of term. I was really pleased with your book review this week for Swallows and Amazons which is one of my favourite books. And you also completed all the other tasks set. You seem to have really enjoyed the history unit this term, but you have produced good quality work in all subjects. Well done.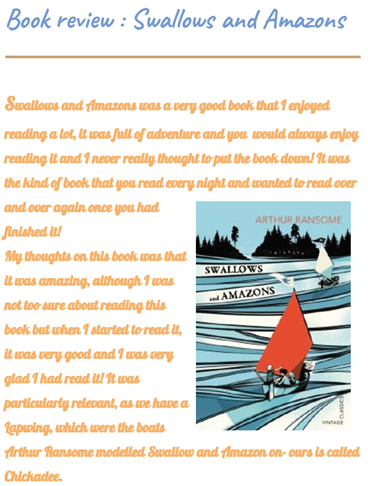 MONDAY LEAVER'S ASSEMBLY
On Monday it is the Year 6s last day in school. There will be a special assembly in the afternoon with all the usual silly gifts, certificates and other treats. The assembly is for all the children in Year 6 and one parent from each family. We are hoping to meet on the school field and for the other children in school to join us for a socially distant, spread-out leavers' do. We might even sing, One more step along the world I go…
As I am not able to be there, I would just like to use this opportunity to wish all the Year 6s the best of luck for the future. It has been the most unusual final year in primary school, but they have all coped magnificently with the challenges of lock-down, home-learning and – for many – the return to school. I think that, if they can cope with lockdown, they will be able to cope with anything. It has been a great pleasure to be their teacher and I will miss them. As I have said in their reports, I look forward to hearing how they are doing from time to time.
YEAR 5s
We have had a wonderful two weeks with the children who will be in Yangtze Class from September; it was great to be able to welcome you back to school and see you having so much fun with your friends. I'm looking forward to being your teacher in September and getting together as a whole class at last.
If you are in Year 5 but weren't able to come into school over the last two weeks, it would be lovely if you were able to complete the hand-print task (see below) as this will form a display in our new classroom in September.
TASKS FOR THE WEEK
As you know, it's the end of term on Wednesday (Whoop! Whoop!), and things are always a little different during the final few days in school. So, I have made some suggestions which you are free to follow.
ALL ABOUT ME HANDPRINTS
The children in school really enjoyed making these 'All about me' handprints this week. Simply use a pencil to draw around your hand and fill it with patterns. Then, use colouring felt tips to colour in your patterns. Once you have finished, use a black felt tip to go back over the lines to (as Lily said), "Make the colours pop." Do the same with your border. Lastly, fill the empty white space with as much information about yourself as you can think of. You can include pets, favourite foods, targets for next year, things you want to do as an adult, places you have been or want to visit, friends, family, pet hates, etc. etc. etc. Bring it in on the first day in September and we'll add it to our display. We used A4 paper.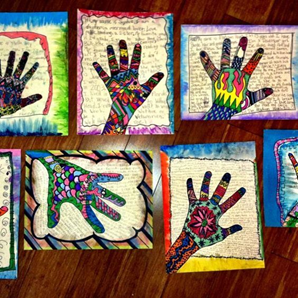 SPORTS DAY
As we weren't able to hold a sports day this year, why not run your own? Set up an obstacle course, hold a dressing-up race, run a three-legged race, an egg-and-spoon race, a hopping race, a two-legged jumping race, a wheelbarrow race. You could do some sprints, a long-distance race and you could even try a relay.
How many different sports can you compete in over the course of a day?
I'm sending out a Fitness Bingo game to get you started.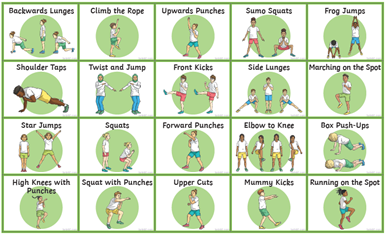 WRITE AN OPEN LETTER
The end of year is always an emotional time, with partings and good-byes, and people heading off in different directions. It's often difficult to say everything you wanted to say to your friends because of the hustle and bustle of the last day. On top of all this, there are many of your classmates you won't have seen in a great while, and some whom you might not see again. Why not write an open letter to them all to share your thoughts (an open letter is a letter that anyone can read). You could remind them of a favourite memory, share your thoughts about this strange year, and wish them luck for the future. Send me your letters and we'll publish them on the school website.
COOK UP A STORM
Everyone should know how to cook five favourite meals (at least). These should be the family favourites that everyone enjoys. What would the list be like in your house: spaghetti bolognaise, chicken curry, vegetarian kebabs, pasta splodge? Now would be the perfect time to learn how. Talk to your parents and work out which meal to cook, ensure them that you are responsible enough to be entrusted with the secret family recipe, and get going. Post pictures to me and put them on your blog.
GET CRAFTY
There are millions and billions of crafty websites online, for those who like to make. You can pick up ideas from Pintrest, Youtube and a zillion other places. Why not make something using some of the clothes you've grown out of during the lock-down? For example, watch this video for ideas about things you can do with an old pair of jeans https://www.youtube.com/watch?v=F9204ebsb_o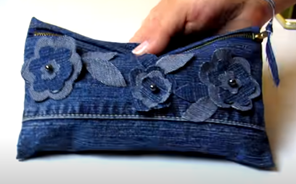 RUBE GOLDBERG COMPETITION
Remember, there's always the Rube Goldberg competition to take part in. The idea is to make a cracking contraption that can water a plant. In class we talked about watering cans on zip wires, but what ideas do you have? See last week's science slides for the competition details.
SUMMER READING CHALLENGE
The local library service are, once again, running the Summer Reading Challenge which I recommend everyone takes part in. This year it is running online – you can find out more here: https://summerreadingchallenge.org.uk/ There are prizes, certificates and great books to read. And frankly, what could be better than sitting in the sun with a good book to read? So, join the Silly Squad and keep your brain active during the long, hot days of summer.
AND LASTLY
I wish you all a fantastic summer holiday full of rest, fun, activities, family, sunny weather, walks, rides, swims, books, games, play, friends and ice cream. I look forward to seeing some of you in September and I wish the rest of you: "Farewell!"
AND LASTLY, LASTLY
Why do bananas use suncream?
Because they peel!
What do you get when you mix an elephant and a fish?
Swimming trunks!
Why don't oysters share their pearls?
Because they're shellfish!
---