May the fourth be with you.
DAY 19
STAR OF THE WEEK
Well done Rose: you are the Yangtze Star of the Week!
I have been incredibly impressed with the way you have tackled each task. The work you have shared with me has been of a high standard and engaging and entertaining. Last week, I was really impressed with your Stone Age art work, and this week, I really enjoyed browsing the photos you have been posting on your new website. Well done and keep up the great effort! Mr Leicester
STONE AGE MUSIC
I must start by saying thank you to Eliza and her father for their fantastic Stone Age music demonstration on Friday morning. I thought that it was very powerful – music has a special way of connecting people together, even if those people lived thousands of years apart. I wonder if any of you made bull roarers following the demonstration. If you would like to post a video of you playing it, I'm sure we'd all love to see it.
PURPLE MASH
You should all now have received emails with your log-ons to Purple Mash. This is our new online learning resource. It is full of great games, resources and applications that we will be using over the coming months and beyond. This week, I would like you to log on, have an explore, and then log onto the blog application. This is the app we will use to make the first of our blogs, before moving on to WordPress. (Although I know that some of you have already made a headstart with the WordPress site, which is fine.)
THE OAK NATIONAL ACADEMY
Thank you to all of you who helped us review the home-learning so far. From my point of view, I've been really impressed with how well you have all been doing in very difficult circumstances. It's been lovely to have so many emails with all your work, photographs and other projects – I really feel as though we are still working as Yangtze Class, even though we aren't in the same room. So well done all.
However, following the review, I would like to experiment with using some of the online resources that have been produced for children across the country. The Oak National Academy has been set up by the Department for Education to provide online lessons. Next week, I would like to make use of the Literacy resources (see your weekly planner). I would be very interested to know what you think of these sessions, so please email me towards the end of the week with your thoughts. If you like them, we will carry on; if you don't, we can go back to the old way.
UPDATES FROM THE HOME FRONT
It seems as though the art has been a big hit this week. You've all enjoyed squishing, grinding, mixing and sieving a range of very unusual substances to create your paints. Here are the results:
Following Emily's contribution yesterday, Hugh and Guy were keen to share with you their collection of prehistoric bones. Hugh is holding a mammoth shoulder bone that was trawled up from the bed of the North Sea by a great uncle. Guy is holding a deer's jaw bone.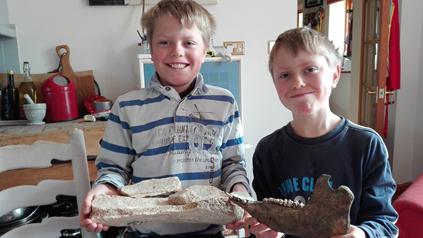 Today's tasks are as follows:
GUIDED READING and LITERACY
Today is the final lesson on the Standing Stones story. I would like you to re-read your work in order to proof-read it (checking the spelling, punctuation and grammar), and to edit it to improve it. This is a really important part of the writing process: you are trying to read your work with your readers' eyes and thinking about what you can do to make your writing more effective, more tense, more descriptive and more engaging! See the powerpoint slides to help you know what to do. Once you have completed this step, please send your stories to me so that I can enjoy them too.
MATHS
Today you will be making nets of 3D objects and using your maths superpower of 'IMAGINING' to answer questions about nets.
HISTORY
The big question this week is: What tools did Stone Age people use? If you watched Mr Carr's lesson on Friday you will already have some good ideas about the kinds of tools Stone Age people used, but I would also like you to conduct some research of your own. Use the slides to help.
AND LASTLY,
What came after the Stone Age, the Bronze Age and the Iron Age?
The sausage!