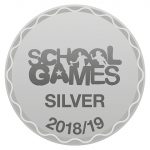 Children at Fressingfield lead very active lives. Not only do they have beautiful grounds to run about in and explore, but they enjoy many different sporting opportunities so that they are involved in physical activity for much more than the Government target of two hours per week for each child.
Sports coaches come into the school and help to support the delivery of hours PE each week. Different sports are rotated each half term so that children are given the chance to take part in basketball, football, rugby, cross country, hockey, gymnastics, swimming, multi-skills, athletics, striking and fielding games during their school careers. Years 1 to 6 go swimming for a half term each year at Stradbroke swimming pool. There are after-school sports clubs for KS1 and KS2 children, and in addition we enter numerous competitions against other schools in the High Suffolk area.
In acknowledgement of our commitment to PE the school holds a Silver School Games accreditation.