HOMESCHOOLING DAYS 38 – 42
STARS OF THE WEEK
Our Star of the Week in school is Monique. She has been cheerful, hard-working and determined. She has particularly enjoyed the maths this week, and has contributed really well to every other lesson too. It has been great fun having you back in the class, Monique. Well done and keep it up.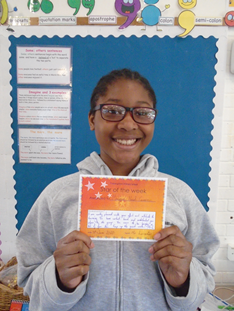 Our Star of the Week at home is Finley. I am really impressed with all the work Finley has produced throughout the lock-down: he is working his socks off and I always look forward to hearing about what he has been up to. This week he wrote a fantastic set of instructions for catching a dragon that was detailed, entertaining and full of good humour and an incredibly long 'History of Bread' timeline. Well done Finley!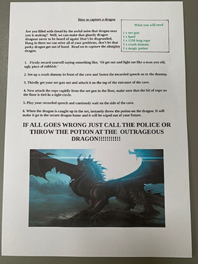 PLEASE SHARE
I was surprised that very few of the children who are now back in school knew about my weekly newsletter. Please let them read through these messages for themselves – they're a nice way for them to keep in touch with what their friends are up to. Thank you.
NEWS FROM THE HOME FRONT
Wow! I have been inundated with examples of incredible work from you this week. Well done for getting back into the swing of things so well. There has been far too much to share it all, but here are a few examples.
Many of you made a model of the solar system. Here are Matilda and Rose's.
Eva produced a seriously impressive set of Top Trump cards full of amazing facts: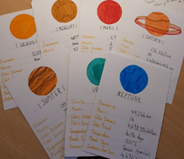 And George's fact files were really well presented too: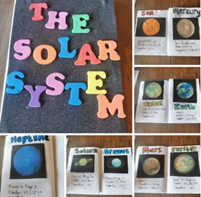 You've also worked hard on your History of Bread timelines too. I was particularly impressed with Eliza's which was very well presented using Word, and full of great facts too – including the start of the Great Fire of London!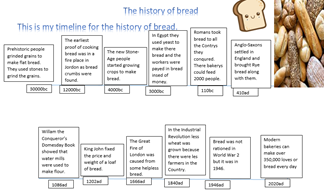 Finally, more great work to share from Percy: fantastic poster, a great Solar-System-In-Your-Pocket and a stone age necklace made using a real dear antler he found.
POST YOUR WORK ON YOUR BLOGS
Remember, you can always post work you want to share on your blogs. You have sent me some fantastic instructions for catching dragons and diary entries this week; if you post them to your blogs, your friends will be able to read them too! Make sure you also send me copies of work you want me to mark.
HOODIES
The Year 6 Hoodies have been ordered! Hopefully they won't take too long to arrive – I'll let you know when they get here. Thank you for bringing in your sponsorship money and contributions. If you haven't already done so, please drop off your money in school as soon as you can. Remember – it has been a group effort, so any contribution is welcome. Thank you to the friends for helping us out too!
TASKS FOR THE WEEK
LITERACY – NON-CHRONOLOGICAL REPORTS
We are living through strange times and I think children in the future will be interested to read about what it was like to live through the Coronavirus Pandemic of 2020. We have decided to bury a time capsule in the school grounds to be dug up by children in the future. We will fill it with things related to the pandemic, the lock-down, home-schooling, etc. This week, we will also write non-chronological reports about this strange time to include in the time capsule. Please send me your completed work by email (in Word if possible) and I will print it out and bury it!
MATHS
We are adding and subtracting with decimals again this week, then there are a few more dastardly, head-scratchingly tricky maths problems to solve on Friday.
SCIENCE
Our new topic is Forces and – in this first lesson – you will be revising different types of forces you have learnt about in previous years and reminding yourselves which forces are pushes and which are pulls.
ICT – ANNIMATION
I enjoyed your animations and am pleased to see you saving more and more things to your blogs. This week you'll be making your own flip books, before learning how to create similar things digitally. You'll need to download pivotanimator for the second part of the lesson.
HISTORY
Time is moving forward, and we are moving on. This week is the start of the Bronze Age. Find out about this versatile metal and learn how to make it.
D&T
We're investigating, exploring and analysing breads of the world this week. I hope you're feeling hungry!
FRENCH
En francais, you will be learning the words for ordinal numbers (first, second, third, etc), then reading slightly more complex directions using these words.
AND LASTLY,